SocietalSystem ( StS )
Humanity's Operating Complex


www.societalsystem.com
SocietalSystem ( StS ) Transition 2025 Campaign
Sector Real Estate
Sector Real Estate.
General Site Sector Real Estate
Includes extensive data onthe Topic related Supervisor-Licensee; Research-Editors, Consortium, StS-Entity, Agenda and more.
SocietalSystem introduces a new dimension to the real estate business spectrum.
Apart of the conventional intermediating between sellers and buyers, real estate agents become partners
:
1.

in the

research

, including parcel-to-parcel streets and roads

surveys

, of their geo-territory.
2.

in the

projection

of the responsable

uses

of each of the available estate objects, within the whole territorial reality and future potential
3.

in the

facilitating

,

sales

and possibly launching of relevant dynamic

socio-economy

projects

on the estates
.
This implies that they become permanent

shareholders

and/or royalty beneficiaries

of the projects.
Sector Real Estate Societal Workshops
SocietalSystem is offering 1-Day and 3 to 5 Days Workshops for real estate professionals,
individual or in small groups of 3 to 5 .
Programs are organized in the South-West Portugal region, and can as well be organized elsewhere in Portugal and in the world.
The programs are administered by StS-Staf along with Real Estate Consultants.
Related professional organizations, Universities, Polytechnic Institutions and other Training Institutions of the given regions,
are invited to co-conceive and organize these innovative initiatives.
Similar programs are being organized for the Sectors of Construction, Equipments for Regional Socio-economy Networks, indeed dozens of sectors,
Producers of Regional-Local Products and Services, etc. all cross-over connected.
In this sense a series of

Societal Expo-Congresses

are being projected, possibly starting in Aljezur, Algarve, Portugal.
Info:

contact@societalsystem.com
Catalogue Real Estate, Algarve
A unique platform, tables per estate object, already more than 20,
listed per municipality and submunicipality, more than 80 !
With inclusion of socio-economy dynamization projects, or proposals, of real estate objects.
Put yours on it, offer or demand, in a selection of Tables + Pages throughout the StS-Databank
.
See also:
Cours de SocietalSystem Master Training, Orphelinat El Bernoussi 2016, Casablanca, Maroc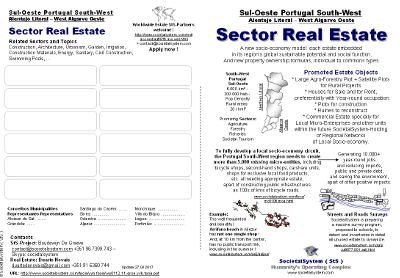 Download the Flyer Sector Real Estate - Portugal South-West
This project is being applied worldwide. National and Regional Supervisors welcome !
A potential for thousands of decent jobs !
And the basis for a wide range of worldwide local socio-economy initiatives.
Horizontal Navigation Page Sector Real Estate, World Geo-Territories
General Site Societal Investment Platform
Pilot Countries and Regions include:
Portugal Sector Real Estate Sections per District 18 > 300+ Municipal SubSections

Hungary Sector Real Estate Sections per County 20 and 174 Districts SubSections
Guinée ( Conakry ) Sector Real Estate Sections per Préfecture 34 > 300+ SousPréfecture SubSections

DR Congo ( Kinshasa ) Sector Real Estate Sections per Province 26 > 100s Cities and Territories SubSections
Morocco Sector Real Estate Sections per Province and Préfecture 65 > 1500 Municipal SubSections
Romania Sector Real Estate Sections per County 42 > 100s Municipal SubSections
Greece Sector Real Estate Sections per Regions 13 > 325 Municipal SubSections
Directly related Project, with the same Pilot Countries and Division Sections
Horizontal Navigation Page

Large Agro-Forestry Plot Projects

, World Geo-Territories
More tha 100 parallel Project with same system-strategy:
Global-Local Societal Projects Diagonal Navigation Page World Geo-Territories
-----------------------------------------------------------------------------------------------------------------------
Sector Real Estate

Study Learning Training Coaching

Syllabus
Training Program

Sector Real Estate
SiteMap

Sector Real Estate
-
Key-Diagram

Sector Real Estate
SocietalSystem FindEngine

Sector Real Estate
-
Horizontal Navigation Pages

Sector Real Estate
Blank Document Models

Sector Real Estate
SocietalSystem Documents Flow

Sector Real Estate
-
Related SocietalSystem-Sites

Sector Real Estate
Key-Terms

Sector Real Estate
-
Key-Checklists

Sector Real Estate
SocietalSystem Spheres-Flow Applications

Sector Real Estate
-
Societal Sectors Applications

Sector Real Estate
-
Disciplines Applications

Sector Real Estate
Geo-Territorial Applications

Sector Real Estate
-
Societal Entities Applications

Sector Real Estate
Promo Cards

Sector Real Estate
-
Promo Posters

Sector Real Estate



3-fold Flyers

Sector Real Estate
-
Promo Video

Sector Real Estate
Expositions

Sector Real Estate
-
Excursions

Sector Real Estate
Intro-Promo Slideshow

Sector Real Estate
-
Synoptic Triptych Set

Sector Real Estate
Key-References

Sector Real Estate
-
Quotations

Sector Real Estate

Holistic Thinking Applications Sector Real Estate
-
Key-Survey

Sector Real Estate
Societal Top-Indicators DashBoard

Sector Real Estate
Societal e-Transition 2025 Proposals and Projects

Sector Real Estate
SocietalSystem-Tasks List

Sector Real Estate
-
Global Supervisor

Sector Real Estate
SocietalSystem Operating Features

Sector Real Estate
-
SocietalSystem-Packages Products Services Events

Sector Real Estate
SocietalSystem Associates and Partners

Sector Real Estate
SocietalSystem Crowd-Research and Construction Program

Sector Real Estate

Update: 10.05.2017

URL

:

http://www.societalsystem.com/qrsa/



Contact

:
contact@societalsystem.com


© SocietalSystem ( StS )
www.societalsystem.com
contact@societalsystem.com