SocietalSystem ( StS )
Humanity's Operating Complex


www.societalsystem.com
Societal Expo-Congresses
e-Regional Convergence of Systemic Solutions
for an Exponential Shift in Societal Organization and Personal Way of Life.

Proposed to be organized 2 to 4 times per year, in each e-region, 10.000+, of the world, all e-connected.
Pilot:

Expo-Congressos Societais 2018 Alentejo, Portugal
Societal Expo-Congress Brussels 2019
Tests 2018 in Portugal and some African countries in preparation ...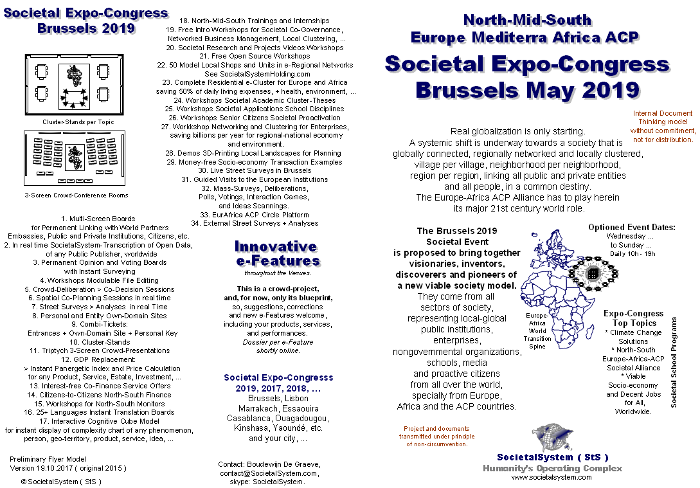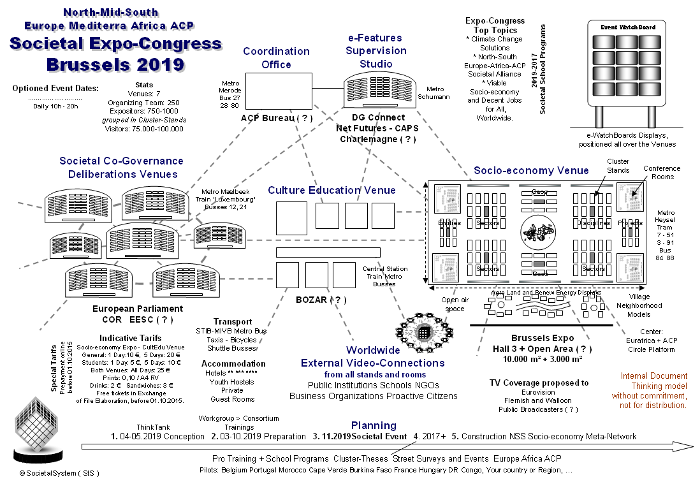 Download Flyer R/V Expo-Congress Brussels May 2019

EU Citizens' steered Societal Deliberations and Elections 2019 Plan
Introducing in practice, with modulable tools and local initiatives,


Citizens' steered Societal Co-Governance of the European Union,
its Member Countries, Regions and Municipalities.
European Parliament
Series: EP Issues - MEPs Members of Parliament
Follow-up Site under construction, per Issue and per MEP
Expo-Congressos Societais 2018 Alentejo, Portugal
See also:
Europe Continent
-
Europe Continent Regions
-
Africa Continent
European Union
-
Mediterranean Area
-
Arabia
World Geo-Territories

-

North-South Cooperation

-
UN Group of 77
-
Group of Least Developed Countries LDC
BRICS Countries
-
South-South Cooperation
-------------------------------------------------------------------------------------------------------------------------------------------------
Societal Expo-Congresses

Study Learning Training Coaching

Syllabus
Training Program

Societal Expo-Congresses
SiteMap

Societal Expo-Congresses
-
Key-Diagram

Societal Expo-Congresses
SocietalSystem FindEngine

Societal Expo-Congresses
-
Horizontal Navigation Pages

Societal Expo-Congresses
Blank Document Models

Societal Expo-Congresses
SocietalSystem Documents Flow

Societal Expo-Congresses
-
Related SocietalSystem-Sites

Societal Expo-Congresses
Key-Terms

Societal Expo-Congresses
-
Key-Checklists

Societal Expo-Congresses
SocietalSystem Spheres-Flow Applications

Societal Expo-Congresses
-
Societal Sectors Applications

Societal Expo-Congresses
-
Disciplines Applications

Societal Expo-Congresses
Geo-Territorial Applications

Societal Expo-Congresses
-
Societal Entities Applications

Societal Expo-Congresses
Promo Cards

Societal Expo-Congresses
-
Promo Posters

Societal Expo-Congresses



3-fold Flyers

Societal Expo-Congresses
-
Promo Video

Societal Expo-Congresses
Expositions

Societal Expo-Congresses
-
Excursions

Societal Expo-Congresses
Intro-Promo Slideshow

Societal Expo-Congresses
-
Synoptic Triptych Set

Societal Expo-Congresses
Key-References

Societal Expo-Congresses
-
Quotations

Societal Expo-Congresses

Holistic Thinking Applications Societal Expo-Congresses
-
Key-Survey

Societal Expo-Congresses
Societal Top-Indicators DashBoard

Societal Expo-Congresses
Societal e-Transition 2025 Proposals and Projects

Societal Expo-Congresses
SocietalSystem-Tasks List

Societal Expo-Congresses
-
Global Supervisor

Societal Expo-Congresses
SocietalSystem Operating Features

Societal Expo-Congresses
-
SocietalSystem-Packages Products Services Events

Societal Expo-Congresses
SocietalSystem Associates and Partners

Societal Expo-Congresses
SocietalSystem Crowd-Research and Construction Program

Societal Expo-Congresses

Update: 02.11.2017

URL

:

http://www.societalsystem.com/mbx/



Contact

:
contact@societalsystem.com


© SocietalSystem ( StS )
www.societalsystem.com
contact@societalsystem.com