SocietalSystem ( StS )
SocietalSystem.com
SocietalSystem-DataBank and Societal Dynamization
Societal Workshops for All
Workshops for societally awakening and proactivating all people and entities, year-round, worldwide.

Visionary Thinking, Crowd-Research, Societal Co-Governance, Convivial Socio-economy and Finance, Lifelong Learning, ...
Improving personal way of life, creating sociable enterprises and self-fulfilling jobs, inducing viable growth.
Workshop Formulas include:
3-Hour Sessions, Days, Weeks, Residential WorkShops, ...
for 10, 25 or hundreds of people, ...

Societal Workshops are best organized in a
SocietalSystem Triptych 3-Screen System
environment.
Create a 3-Screen Room or Hall in your town, village, enterprise, school, association, hotel,
conference venue, exhibition resort, and more.
Societal Workshops main Tools
SocietalSystem-Topics Synoptic Triptych Files Sets
with 3-Fold Flyers and Posters, later Videos as well
Societal Workshops e-Coachers Training is a major part of the
SocietalSystem Societal Training and Learning System-Program
Some Societal Workshop Topics
Stering Local Public Budgets - Organize Street Surveys - Semi-Vegetarism
Reorganize Neighborhoods - Societal Applications of all School Disciplines
Languages - Healthy Living - ...

The Societal Workshops are based on the
modulable tools of the
SocietalSystem-DataBank System and Platform
It currently contains more than 250.000 pages and files for download,
in 5 languages, on more than 100 countries.
Each municipality, town or village in the world is projected
to being loaded online, starting with 500 standard pages and files.
Societal Workshops for All.


Re-Schooling Society.
From Holistic Thinking over
Societal Governance
to Panergetic Acting.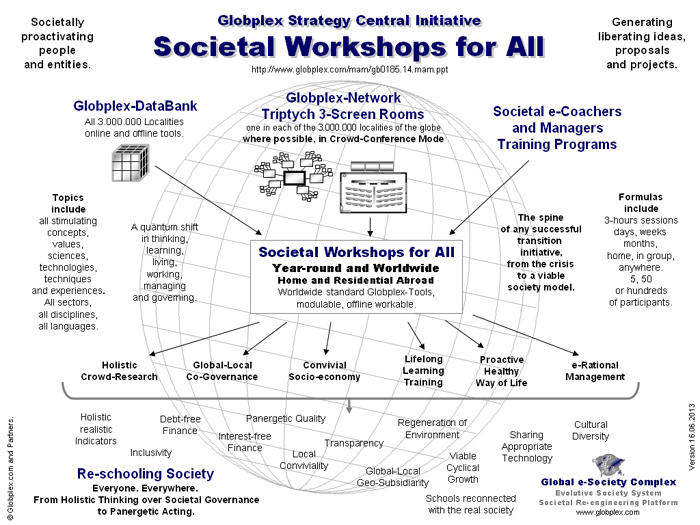 Download

the latest version of the SocietalSystem Societal Workshops for All Diagram
SiteMap
-
Key-References
-
Horizontal Navigation Pages
Societal Top-Indicators DashBoard
Societal e-Transition 2025 Proposals and Projects

Update: 16.06.2017

URL

:

http://www.societalsystem.com/mam/



Contact

:
contact@societalsystem.com

SocietalSystem-FindEngine


© SocietalSystem ( StS )
www.societalsystem.com
contact@societalsystem.com