SocietalSystem ( StS )
Humanity's New Operating Complex


www.societalsystem.com
Person-Planet Alliance, Portugal
Person-Planet Alliance, Portugal.
Aliança Pessoa-Planeta, Portugal
substituindo, até 2030, a Política Partidária
Consorcio de cidadãos, de todos os setores da sociedade, constituindo uma plataforma complementar
par dirigir a sociedade, baseado numa Carta Societal de Convenções-Raízes
.
General Site Person-Planet Alliance
Horizontal Navigation Page

Person-Planet Alliance

, World Geo-Territories
Aliança de Governação Societal,
Person-Planet Alliance, Algarve, Portugal.
Top Priorities for the Societal Alliance(s) Portugal
01. Societal Alliance per District > Concelho
02. Elaboration StS-Matrix Districts Concelhos Freguesias, etc.


See Societal Cognitive and Dynamization Cube, Portugalc.
03. Societal Deliberations Program
> Societal (S)Elections Plans
04. Societal Revision and adoption related Legislation

1. Streests and Rods Societal Surveys, Parcel-per-Parce
In close cooperation with Schools
,
Universities, Polytechnicals
+ Expats and Lobg-Term Visitors, Trainees, etc. !
2. Societal Audits of Societal Entities
cooperation of Schools
3. Panergetic Domestic Check-ups
cooperation of Schools
4. Campaign Rural Revitalization
4.1 Agro-Forestry Eco-Resorts
1.2 Green-Convivial Rural Zonings
5. Urban Gree-Convivial Streets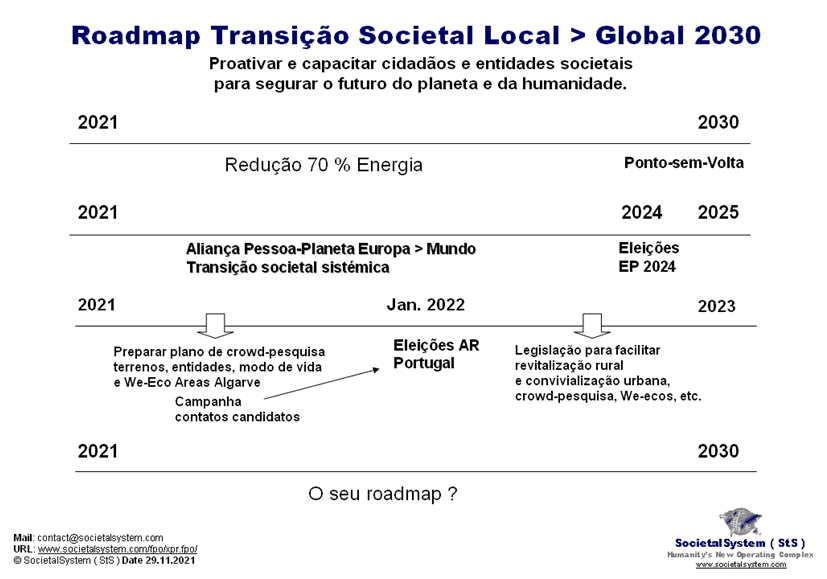 --------------------------------------------------------------------------------------------------------------------------------------------------------------------------
Person-Planet Alliance, Portugal

Study Learning Training Coaching

Syllabus
Training Program

Person-Planet Alliance, Portugal
SiteMap

Person-Planet Alliance, Portugal
-
Key-Diagram

Person-Planet Alliance, Portugal
SocietalSystem FindEngine

Person-Planet Alliance, Portugal
-
Horizontal Navigation Pages

Person-Planet Alliance, Portugal
Blank Document Models

Person-Planet Alliance, Portugal
SocietalSystem Documents Flow

Person-Planet Alliance, Portugal
-
Related SocietalSystem-Sites

Person-Planet Alliance, Portugal
Key-Terms

Person-Planet Alliance, Portugal
-
Key-Checklists

Person-Planet Alliance, Portugal
SocietalSystem Spheres-Flow Applications

Person-Planet Alliance, Portugal
-
Societal Sectors Applications

Person-Planet Alliance, Portugal
-
Disciplines Applications

Person-Planet Alliance, Portugal
Geo-Territorial Applications

Person-Planet Alliance, Portugal
-
Societal Entities Applications

Person-Planet Alliance, Portugal
Promo Cards

Person-Planet Alliance, Portugal
-
Promo Posters

Person-Planet Alliance, Portugal



3-fold Flyers

Person-Planet Alliance, Portugal
-
Promo Video

Person-Planet Alliance, Portugal
Expositions

Person-Planet Alliance, Portugal
-
Excursions

Person-Planet Alliance, Portugal
Intro-Promo Slideshow

Person-Planet Alliance, Portugal
-
Synoptic Triptych Set

Person-Planet Alliance, Portugal
Key-References

Person-Planet Alliance, Portugal
-
Quotations

Person-Planet Alliance, Portugal

Holistic Thinking Applications Person-Planet Alliance, Portugal
-
Key-Survey

Person-Planet Alliance, Portugal
Societal Top-Indicators DashBoard

Person-Planet Alliance, Portugal
Societal e-Transition 2025 Proposals and Projects

Person-Planet Alliance, Portugal
SocietalSystem-Tasks List

Person-Planet Alliance, Portugal
-
Global Supervisor

Person-Planet Alliance, Portugal
SocietalSystem Operating Features

Person-Planet Alliance, Portugal
-
Person-Planet Alliance Products Services Events

Person-Planet Alliance, Portugal
SocietalSystem Associates and Partners

Person-Planet Alliance, Portugal
SocietalSystem Crowd-Research and Construction Program

Person-Planet Alliance, Portugal

Update: 30.11.2021

URL

:

http://www.societalsystem.com/fpo/xpr.fpo/



Contact

:
contact@societalsystem.com


? SocietalSystem ( StS )
www.societalsystem.com
contact@societalsystem.com